Whether you have pain in your back or neck, we're here to help. We provide personalized treatment sessions to meet your needs. Experience a better Quality of life Today. Call Goss Chiropractic to request your appointment.
Chiropractic acupuncture involves treating injury and disease by stimulating the tissues and organs beneath the skin. This type of therapy can be effective in treating a wide range of conditions.
Active Release Technique and Trigenics
Active release technique (ART) and Trigenics are specialized soft tissue manipulation therapies that target the muscles, tendons, ligaments, fascia, and nerves.
a treatment that utilizes specific wavelengths of light to interact with tissue helping accelerate the healing process by reducing inflammation, decreasing muscle tension and supplying energy for tissue repair.
At Goss Chiropractic, we provide custom orthotics for patients in Kitchener-Waterloo. Whether your foot pain is chronic or recent, orthotics may be a simple, non-invasive solution to your problem.
ShockWave Therapy
Shockwave Therapy is a non-invasive, out-patient alternative to surgery for those suffering from many joint and tendon disorders. Radial shockwave therapy (RSW) sends shock waves into bone or soft tissue, in effect reinjuring the area on a cellular level and breaking up the scarring that has penetrated tendons and ligaments.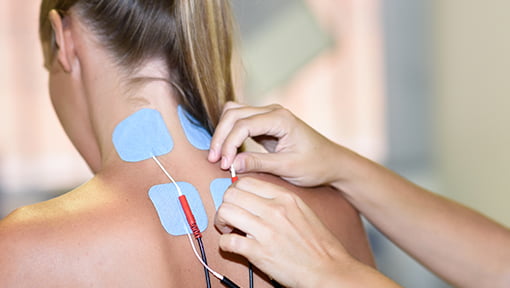 Electrical Therapy including IFC and Russian Faradic
Interferential current therapy is an effective therapy option to relieve pain and accelerate the self-healing process, getting your body back to a healthy, pain free state. The high frequency signals of an IFC penetrate through the skin into deeper lying muscle tissues.
Please fill out the form below and a member of our team will contact you.